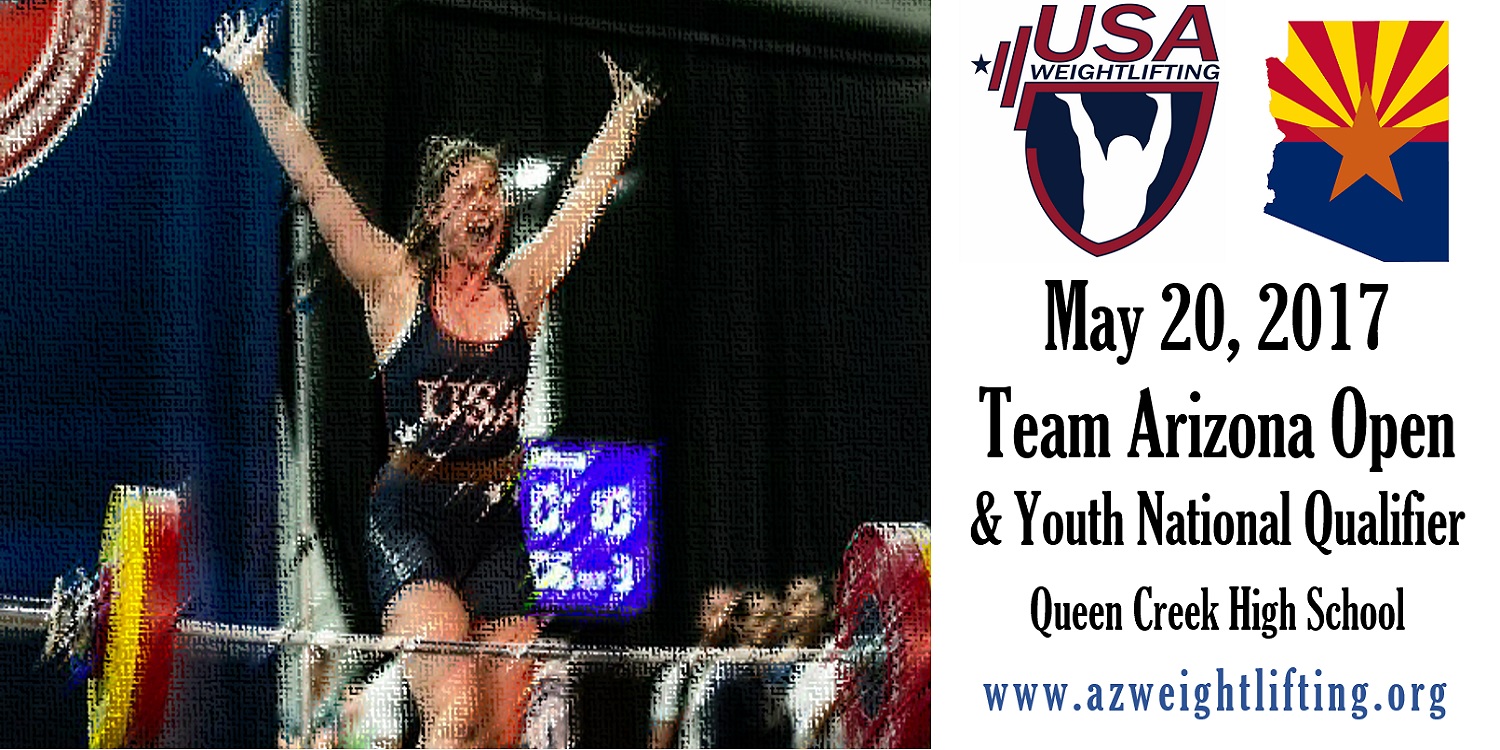 MEET INFO:
2017 Team Arizona Open
High School / Youth / Junior & Open
USA Weightlifting Sanction #60-17-73096
Queen Creek High School, in conjunction with the Arizona High School Weightlifting Association, is hosting the 2017 Team Arizona Open & Youth National Qualifier, and the competition will include High School/Youth/Junior Sessions, as well as an Open/Masters Session.
DATE:
Saturday, May 20, 2017
LOCATION:
Queen Creek High School
22149 E Ocotillo Rd
Queen Creek, AZ 85142
Competition will be held in the Small Gym on the South Side of the School.
Please park in the parking lot at the SE Corner of the School.
MEET ORGANIZER & DIRECTORS:
Team Arizona Weightlifting
Frank Brooks: fwbrooks@gmail.com
Eric Bramwell: eric.bramwell@okland.com
Host: Glen Adams
ENTRY FEES:
High School Teams/Athletes (School Teams of 3+ Athletes) – $25
Youth & Junior Athletes (Not affiliated with a School) – $30
Open & Masters Athletes – $40
Spectators – $3 Adults / $1 Students or $5 Family
NOTE: Current USAW Membership Required for Competing Athletes
To Join Online, Visit USA Weightlifting Website: www.usaweightlifting.org
Direct Membership Link: https://webpoint.usaweightlifting.org/wp/Memberships/Join.wp
REGISTRATION:
Online By Wednesday 5/17 at Eventbrite:
https://2017weightliftingopen.eventbrite.com
SCHEDULE:
TENTATIVE – Final Schedule to be posted Thursday 5/18
Session 1: High School/Youth/Junior GIRLS – 8am Weigh-in, 10am Start
Session 2: High School/Youth/Junior BOYS – 10am Weigh-in, 12pm Start
Session 3: Open & Masters – 12pm Weigh-in, 2pm Start
UNIFORMS:
Singlets Recommended, but not required. Any two-piece (top & bottoms) competition attire should be tight fitting and may NOT cover the elbows.
WEIGH-INS:
Weigh-ins will be conducted in regular clothes or competition attire, without shoes, and athletes will provided a 1kg clothing allowance (1kg will be subtracted from scale weight).
AWARDS:
Youth & Junior – Each Category & Weight Class
Open – Each Weight Class
Masters – Overall by Formula (Sinclair-Malone-Meltzer)