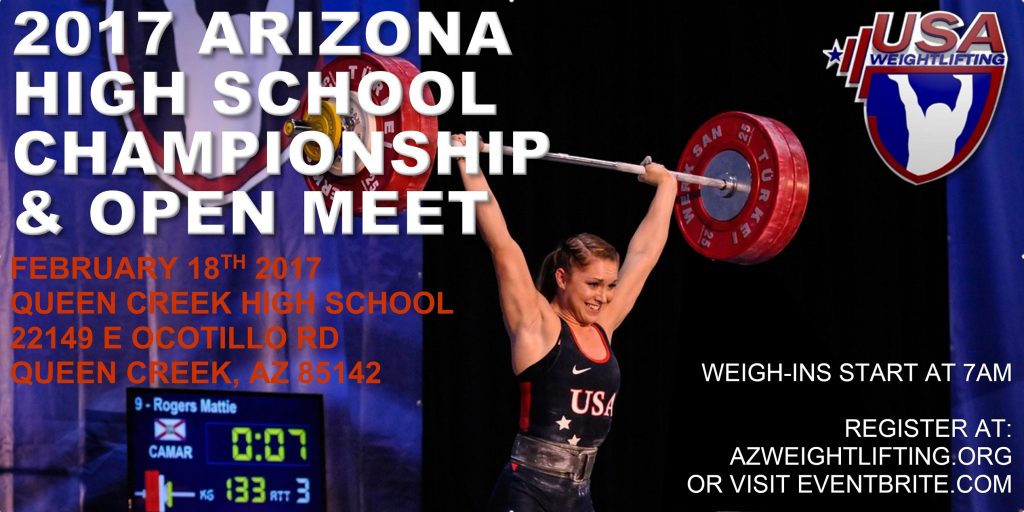 MEET INFO:
2017 AZHSWA High School & Youth Championship
USAW Sanctioned
Come watch Top Youth lifters and High School Teams compete the 2017 Arizona High School Weightlifting State Championship!
DATE:
Saturday, February 18, 2017
LOCATION (Tentative):
Queen Creek High School
22149 E Ocotillo Rd
Queen Creek, AZ 85142
MEET ORGANIZER & DIRECTORS:
Team Arizona Weightlifting
Frank Brooks: fwbrooks@gmail.com
Eric Bramwell: eric.bramwell@okland.com
ENTRY FEES:
High School Teams/Athletes – $35
Youth & Junior Open Athletes (Not affiliated with a School) – $40
Spectators – $3 for Adults, $1 Students, FREE for Children 10 & Under
NOTE: USAW Membership Required for Competing Athletes
To Join Online, Visit USA Weightlifting Website: www.usaweightlifting.org
REGISTRATION:
Online By Wednesday 2/15/17 at: https://azhswachampionship2017.eventbrite.com
High School Teams to submit Team Entry Form (Fill in following Spreadsheet):
WEIGHT CLASSES:
High School Girls & Junior/Open Women – 44/48kg, 53kg, 58kg, 63kg, 69kg, 75kg, 90kg, 90kg+
High School Boys & Junior/Open Men – 44/50/56kg, 62kg, 69kg, 77kg, 85kg, 94kg, 105kg, 105kg+
Youth Girls Open – 31kg, 35kg, 39kg, 44kg, 48kg, 53kg, 58kg, 63kg, 69kg, 75kg, 75kg+
Youth Boys Open- 31kg, 35kg, 39kg, 44kg, 50kg, 56kg, 62kg, 69kg, 77kg, 85kg, 85kg+
SCHEDULE (TENTATIVE):
Final Schedule – as of 2/17/17
Session 1 – Women 31-58: Weigh-in 8:00am / LIFT 10:00am
Session 2 – Women 63-90+: Weigh-in 9:30am / LIFT 11:30am
Session 3 – All Men: Weigh-in 12:00pm / LIFT 2:00pm
UNIFORMS:
Singlets Recommended, but not required.
Any two-piece (top & bottoms) competition attire should be tight fitting and may NOT cover the elbows.
WEIGH-INS:
Weigh-ins will be conducted in regular clothes or competition attire, without shoes, and athletes will provided a 1kg clothing allowance (1kg will be subtracted from scale weight).
QUALIFYING TOTALS:
There will not be Qualifying Totals for Entry into the 2017 Championship.
AWARDS:
Youth/Junior & Open – Each Category & Weight Class
High School Team Division (For School Teams):
– Trophies for Overall Team Champions (Boys & Girls)
– Best Lifter by Grade (Boys & Girls – FR, SO, JR, SR)